Today I'm very excited to be part of a new link up.  If you get a chance head over to Loving Life for her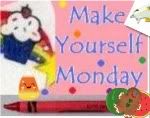 "Make Yourself Monday." There's awesome looking links there, that I can't wait to get a chance to have a look at.:)
Today for Rainy Days and Mondays, I have a game that, as far as I know, my brother and I invented.  We played it when I was about 6 or 7, so he must have been 4 or 5. It's very simple, and all it requires is one Matchbox car per person.
First of all, try to determine the most distant points in your house.  We had a very long house, so our course went from the front door, down the hall, around the corner,
through the kitchen, down a step into the back door entryway, through the dining room, down three steps and across the living room.  All we did was take turns giving our car one push.  The next push would start where ever the car stopped.  If the car started rolling and flipping, the next push started from whereever the roll started.  That took a little bit of strategy, because if you gave the car a huge push, but it started flipping right away, it was not helpful.  The end goal was to reach the final point before my brother.  Since we only did one push at a

time, we didn't get miles ahead of each other.  Also, although I remember bickering with my brother a lot, I really don't remember much fighting about that game.
I'm excited for my daughter to get a little older so I can play this with her.  It's fantastic for a rainy day when you can't get out, but you've had enough sitting still, because it's active, but it's not a ridiculous amount of racing around.
Did you play with cars growing up? What was your favorite race car game?